MYTIS & VIBRI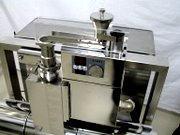 MYTIS&VIBRI /L-GMP with acrylic glass cover. The control box is visible on the rear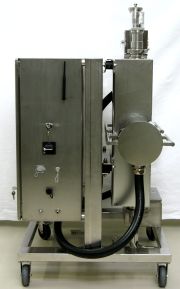 MYTIS&VIBRI side view showing the stainless steel trolley and the control box an the left with the WLAN antenna
Communication
In order to keep the installation and operation as simple as possible, the MYTIS control box contains a powerful embedded PC with a 2 GHz Pentium M processor, 100 Gbytes of harddisk and a 100Mbit/1Gbit network interface.
As all particle sizing data are calculated and stored locally, a simple industrial TCP/IP network operating at 10/100 MHz is used for communication and data transfer. WLAN 802.11a/b/g communication is availabe as an option.
Software
MYTIS is fully integrated in and supported by the latest WINDOX software. The standard content of delivery contains 2 licenses, one is running on the embedded PC, the other e.g. for data visualisation etc. on a standard PC in the control room.
Laser diffraction for Laboratory applications
(off-line)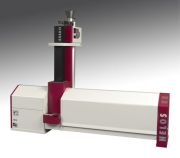 HELOS/KR with gravity disperser GRADIS/L and VIBRI/L
For laboratory (i.e. off-line) laser diffraction analysis applications, please refer to HELOS.