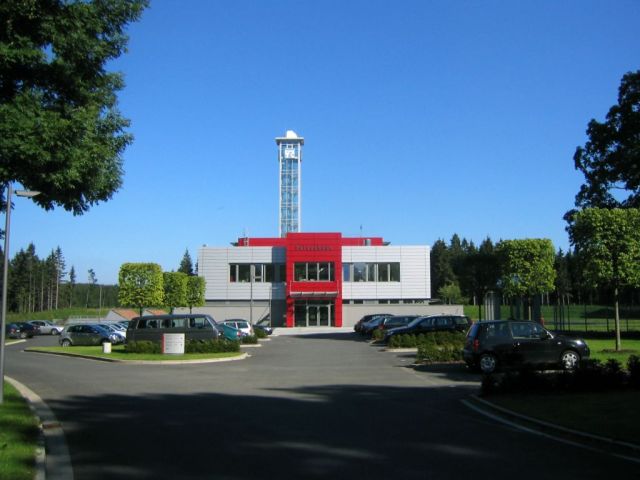 Sympatec head office "Pulverhaus" is located at
Am Pulverhaus 1, D-38678 Clausthal-Zellerfeld, Germany
In 1984 Sympatec has been established as a spin-off from the Technical University of Clausthal, using Swiss capital. Since its foundation, the company has endeavoured to achieve and maintain a leading competitive position in the market by developing innovative products using the best expertise available. With regard to powder technology Sympatec, employ renowned experts with specific know how and experience.
After successful completion of the initial product development for the dry analysis of particle size distributions with laser diffraction spectrometry (HELOS & RODOS) through new developments, many of which have been recognised as milestones by the scientific community, a range of instruments of modular design has been realised. Specifically, Sympatec has clearly defined and pioneered the development of instruments to match the numerous disperse products and processes and the specific demands of the markets.
Actually Sympatec develops, manufactures and sells on an international basis a widely spread out programme of state of the art instruments for particle size analysis with laser diffraction, ultrasonic extinction, photon cross correlation spectrometry and image analysis. With continued innovations, Sympatec achieved technical leadership.
The company has been marketing the instruments in Germany, Europe, Japan, North America and in other overseas countries such as China, Taiwan, Korea, Malaysia, Singapore, Thailand, Philippines, Indonesia, India, South Africa and South America.
The essential fields for the application of the Sympatec range of products are pharmaceutical, chemical products, cement, food and beverages, inorganic raw materials, metal and magnetic powders, mineral raw materials, plastics, research and development.
To date more than two thousand systems have been installed worldwide. All systems operate to the satisfaction of customers.
Developments have resulted in continued growth of the company's staff along with product sales.
In 2004, Sympatec has moved in the new Headquarter "Pulverhaus" in Clausthal, Germany. This facility now keeps general management, sales, after sales, marketing, applications laboratory, administration, production, research and development under one roof.
Today, Sympatec comprises more than 100 employees together with its foreign offices and subsidiaries. The manufacturing department is lean since Sympatec rely on highly competent suppliers and concentrate its in-house expertise on system integration and development.