Reference Material is applied for a re-certification of a Sympatec instrument.
Sympatec prefers to test the accuracy of the instruments by real powder instead of reticles (transparencies with images of particles), because the proper function of the dispersing system, which is essential to a precise measured result, can only be tested by real powder.
A Reference Material is a dry powder or suspension of best possible stability with respect to temperature, humidity, or other environmental influence. All samples have been produced by a multi-step sample splitting procedure, so the particle size distribution of all samples is identical.
A specification sheet with size distribution values and limits of acceptance is shipped along with every box of reference material. The values represent the average calculated from measurements of all Sympatec instruments of equal configuration during the final test in the factory.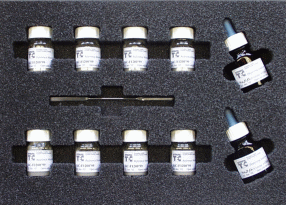 Fig.: reference material set 1 : SiC-F1200'03