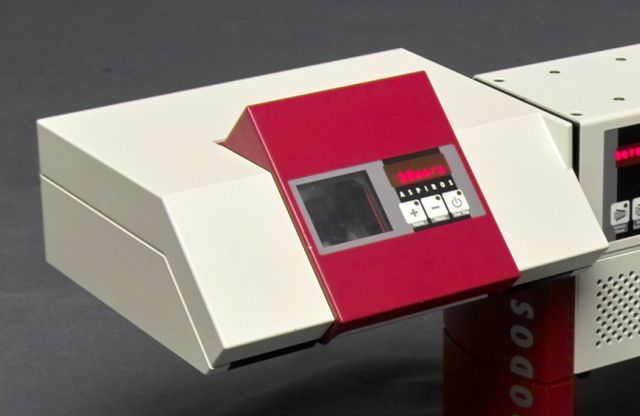 Micro dosing unit ASPIROS/L combined with the dry disperser RODOS/L
Technical specifications and dimensions.
If only small quantities of valuable products or toxic material are to be analysed, the micro-dosing device ASPIROS/L can be applied. ASPIROS/L is mounted instead of the RODOS/L funnel and can be used in HELOS or QICPIC applications. Its encapsulated sample vial is prepared and filled with a few micrograms in a glove box or a fume cabinet. The sealed sample tube is inserted into ASPIROS/L. The unit's bar code reader identifies the sample, automatically applies the correct dispersion settings and releases the sample into the RODOS/L injector for analysis. Having an encapsulated HELOS or QICPIC measuring zone, no product is exposed to the environment.
ASPIROS/L Front View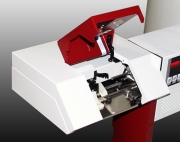 For loading of the sample vial into the transporting sled, the front cover can be opened manually. For security reasons the operation is blocked until the cover is closed.
ASPIROS/L Sample Vials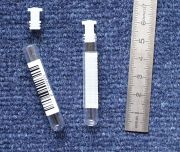 The sample vials can be used as on-way vial. The contain <<1mg to about 1000mg of sample material and are capped with a PE cap for safe storage and transport. The uncapping is performed by the ASPIROS/L mechanics under software control.
Sample Identification
As an option the sample identification is possible via adhesive bar-code labels on the sample vials.